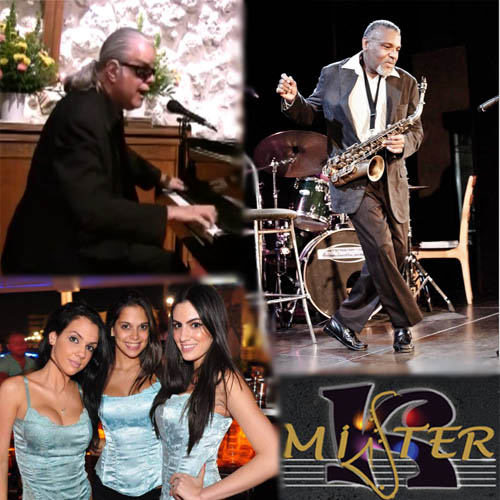 Jazz legends Mike Gerber (Piano) and Jesse Jones Jr. (Sax)  on stage with Mister K on Tuesday, Jan 27.  This will be a super-night of classic Jazz and superstar entertainment.  A MUST ATTEND NIGHT!!!
Jesse Jones Jr.
Jazz is alive in South Florida and Jesse Jones Jr. is here to prove it. The Miami native is a saxophonist extraordinaire and continues to be on the forefront of a burgeoning jazz renaissance in South Florida. Jesse and his brother, Melton Mustafa, who is one of the great trumpet players of our time has been a running force in music for many years. Jesse Jones Jr. is one of those hidden treasures that you can't help but to share with the world. Jesse overwhelms you with his infectious positive attitude and dynamic stage presence. Jesse Jones Jr. attended Mississippi Valley State University where he excelled in music, but his journey actually started in Miami where as a young kid he would listen to a neighbor practice his sax while playing along with Cannonball Adderley albums. "I loved that sound and knew right then I was going to be a musician for the rest of my life". After college Jones joined the military and became a member of the US Navy Show Band. He traveled throughout North and South America where he was given the opportunity to develop his showmanship skills. Besides playing the sax, clarinet and flute, Jesse sang, tap dance and did comedy skits, and found that he had a natural gift for getting the crowd to become part of him. "I just love to perform and make people feel good and satisfied with what they're hearing and seeing". After serving out his four year term in the military, Jesse lived in Boston for a while, then back to his home town Miami, where he signed with Fantasy Records in 1996 and produced his first CD titled "Soul Serenade". Most recently promoting his latest CD, released May 1st , 2009, " The SO THEN Collection". With this CD, you not only hear great music, but you can also taste the many sweet flavors coming from this wonderful musician/entertainer. Through the many years of performing, music has treated me well. I have performed with Donald Byrd, Blue Mitchell, Dexter Gordon, Joe Williams, Dee Dee Bridgewater, Eartha Kitt, Clark Terry, Allan Harris, Ira Sullivan, Melton Mustafa, Dr. Lonnie Smith, Monty Alexander, to name a few. Jesse's Quartet or whether forming a quintet with his brother Melton, brings brilliant ensemble work and always top quality music. The arrangements are intricate… an indication of the many years these musicians have been together as a unit. They know each other well and it shows. A phenomenal reed player, Jesse is technically superior on the alto, soprano and baritone saxophone, as well as flute. He combines the hard-bop influence of Cannonball Adderley, the funk of Hank Crawford, and the sweetness of Paul Desmond. Their influences may be detected within Jesse's riffs. Add to that some of the most unusual "scat" jazz singing when Jesse sings "straight" or through his horns, and the jazz audiences go wild. The humor is international in scope since these are not words but rather sounds that move and groove with the music. The Jesse Jones Jr. Quartet puts on a show audiences remember for a long time. In addition to working with his own quartet, Jesse gigs with other performers and other bands as a free-lancer. His ability to captivate the audience with the classics, and adapt them to his own swinging interpretations, is legendary. "I can only thank God for His blessings. And with the love and encouragement of my wife Thelma, family, friends and incredible fans, my heart will continue to pour out the music that we love so well.
Mike Gerber
From New Times: Mike Gerber works the piano as if he had begun playing in the womb. Actually he took to the instrument when he was just two and a half years old. Nearly 50 years later, the keyboardist (blind since birth) never ceases to wow audiences when he attacks the ivories. After devoting his youth to performing classical music around his native St. Louis, Gerber discovered jazz in his late teens and developed a love for improvisation that flourishes today. A mainstay in the South Florida jazz community, where he's played on and off (but mostly on) since 1969, Gerber is admired for his dazzling, speedy bursts. Although a bout with hearing loss in the late Nineties slowed his career a bit, he is back on track working toward a master's degree in jazz studies at Florida International University. In addition to his schoolwork, Gerber keeps busy gigging in area clubs such as the Van Dyke Café and hitting the occasional concert or jazz festival across North America.
From Miami Herald Article:  When Michael Gerber — who was born blind and partially deaf — takes the stage ….., it will be one of the increasingly rare opportunities to hear the talented pianist play.
"I enjoy playing at Arturo's," says Gerber, sitting at the piano in his North Miami home. "I have two hearing aids — they don't work well with echo. Compared to other clubs where the sound really bounces around, the acoustics there are not echoey and I can hear pretty well."
Gerber was born with only one ear, and it began to go bad in 1995 when tissue began to grow over the joint of the stapes bone. Between the hearing loss in that ear and his other man-made ear, Gerber says he has only about 50 percent hearing.
One might assume that compromised hearing would be a career-ending disability for a musician, but it hasn't stopped Gerber from becoming one of South Florida's premier, if underappreciated, pianists. Over the course of his career, he has played with jazz greats such as Dizzy Gillespie, Art Blakey, Jaco Pastorius and Ron Carter.
"He's an unbelievable piano player — his technique is on the level of an Oscar Peterson or Art Tatum," says trumpeter Sandoval. "He has so many ideas, an endless imagination . . . the music he hears in his head is not the same thing the rest of us hear in our heads."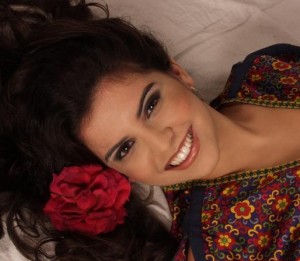 Rising superstar Anna Palmerola will be Mister K's special guest Tuesday, Feb 3,  7 – 11 pm and Live on WDNA 7 – 8 pm.  She is an incredible vocalist.   Steve Kirkland and Anna have been performing together for years and they have developed a musical relationship that is immediately evident.  So bring a special date or a group of friends for an evening of Jazz, Latin Jazz, classic R & B, a hint of Top 40… just simply an evening of music to remember.  The musicianship on stage is unequaled, and in the words of WDNA, "even on a trip to New York City you won't find music better than this."  Of course Steve Kirkland and the Mister K Band will be there playing a mixture of classic R & B, Jazz, contemporary Jazz, Funk etc.  Steve Kirkland, Jazz Saxophone, and the Mister K Band can be heard throughout South Florida, the Palm Beaches, Naples, Ft. Myers, Hollywood, Homestead, Miami, Ft. Lauderdale and Kendall.  Please join us a Blue Martini Kendall for an evening of WDNA sponsored jazz.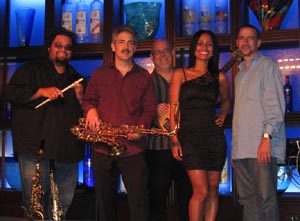 Every Tuesday at Blue Martini Kendall:  Steve Kirkland and the Mister K Band Live  7 – 11 pm
The Mister K Band features Jazz Saxophonist Steve Kirkland along with many of Miami's top musicians including Nomar Negroni, Drums;  Hal Roland, Keyboard;  Robert Gonzalez, Keyboard;  Chegui Calderon, Bass;  and Cayo Iturralde, Bass.  The amazing and beautiful vocalist Rhea Olivia is a regular member of the Mister K Band.  On Tuesday Jazz Night the Mister K Band also features guest artists and performers and vocalists like Nicole Henry, Yrasema, Cary Alexander, & Hal Roland.  Where else in Miami, Ft. Lauderdale, Hollywood, Naples or anywhere in South Florida can you go to hear live music by a live band that performs Jazz, Latin Jazz, Funk, R & B? Come hear Jazz Saxophone and amazing singers at Blue Note at the Blue Martini on Tuesday's in Kendall 7 – 11 pm.