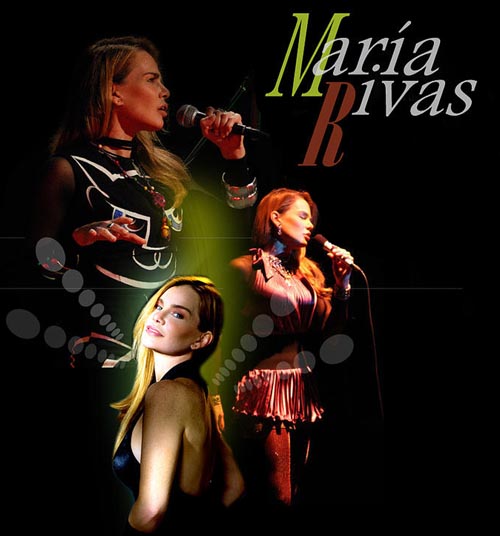 Maria Rivas with the Mister K Band!
de Caracas, su versatilidad y movimiento musical sentó precedente de un nuevo sonido fusionando Las Tres Américas. Coloreando su música con los matices indígenas, europeos y africanos que conforman su estilo único al representar nueva era de la interpretación del Latín Jazz el World Music y Folk tropical. María Rivas, una voz y un mensaje. María comenzó a cantar profesionalmente en los pubs caraqueños a principios de los 80´, luego es contratada en la isla de Aruba, y durante casi tres años present su Show "Viaje Sentimental a través del Jazz", abriendo junto al mùsico arubiano Ivan Jensen y su grupo Ferrari, la primera edición del Aruba Jazz Festival.  Regresa a Caracas a principios del 90, comenzó a presentarse en los teatros y locales  más importantes de Caracas y en las principales capitales de su país, logrando ser  reconocida como una de las artistas mas apreciadas de Venezuela cuando logró llenar  durante tres días consecutivos la magnífica sala Ríos Reina del Teresa Carreño, a finales del mismo año de su regreso.  Su expresión, dinamismo, afinación y espontaneidad al interpretar temas en español,  inglés y portugués la reconocen como una de las voces más versátiles de Latinoamérica según el maestro y compositor venezolano Aldemaro Romero. Su Lucha a través de sus composiciones por la defensa del ambiente natural la hizo líder ecologista y merecedor del primer premio de su carrera artística, el William H. Phelps, como defensora del Ambiente.A partir de ese momento maria comienza a ser iconográfica en el apoyo a la protecciòn de parques y educación de reciclaje a través de conciertos a cielo abierto. Desde 1.990, María ha grabado 10discos, PRIMOGENITO de allí su primer éxito "El Motorizado". Su segundo disco MANDUCO, realizado en 1.992 incluye el éxito que definitivamente cambió la carrera de María, el tema del mismo nombre "Manduco",canción rítmica y contagiosa que fusiona el rico sabor de las costas latinoamericanas, manteniéndose este suceso en los diez primeros lugares del "Billboard" venezolano por casi dos año, logrando así una consolidación artística que ha prevalecido en el tiempo en Venezuela,Colombia, Panamá y Brasil donde se disfruto del "fenómeno Manduco". En 1.994, María realiza su tercer disco MAPALÉ con la disquera internacional EMI, logrando un tercer éxito con la balada "Como lo Haces Tu" del autor venezolano Aldemaro Romero. De este tercer disco EMI de Londres, escogió dos temas de la autoría de Maria para ser incluidos en la colección de "World Music" de la serie HEMISPHERE fundada por Peter Gabriel y distribuido en más de 60 países en el mundo entero.
in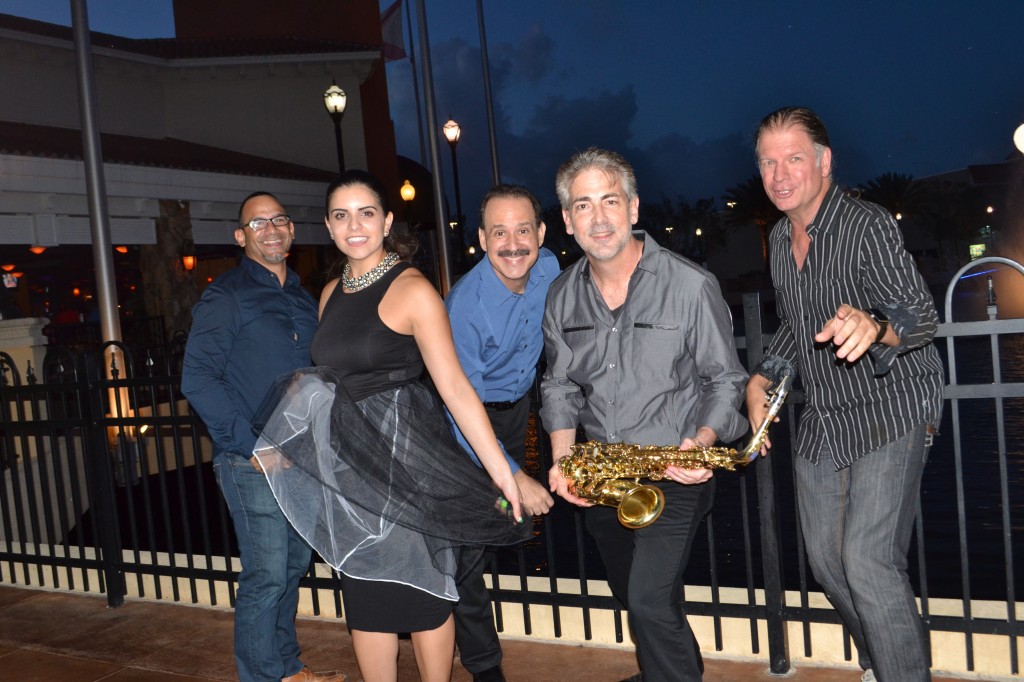 Every Tuesday at Blue Martini Kendall:  Steve Kirkland and the Mister K Band Live  7 – 11 pm
The Mister K Band features Jazz Saxophonist Steve Kirkland along with many of Miami's top musicians including Abner Torres, Drums;  Hal Roland, Keyboard;   and Nicky Orta, Bass.  The amazing and beautiful vocalist Anna Palmerola is a regular member of the Mister K Band.  On Tuesday Jazz Night the Mister K Band also features guest artists, performers and vocalists every Tuesday.  Where else in Miami, Ft. Lauderdale, Hollywood, Naples or anywhere in South Florida can you go to hear live music by a live band that performs Jazz, Latin Jazz, Funk, R & B? Come hear Jazz Saxophone and amazing singers at Blue Note at the Blue Martini on Tuesday's in Kendall 7 – 11 pm.
in