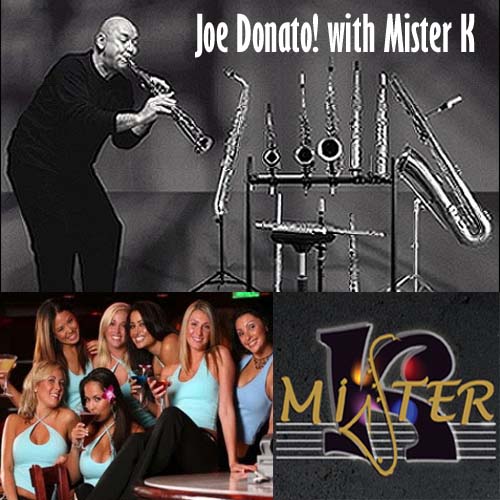 The legendary Joe Donato will be our special guest Tuesday, April 28!  We will also have on stage Brian Murphy,  Danny Burger & Jamie Ousley.
"Whether he is singing, dancing, playing various musical instruments, conducting his great band or telling special stories, he keeps his audience totally excited and entertained. From the moment he steps on stage, there is an instant communication between him and his audience.  He has performed across the globe, on thousands of stages, with hundreds of Stars including  Cher,  Roberta Flack,  Art Blakey,  Arturo Sandoval,  Ira Sullivan, Sammy Davis Jr.,  Dizzy Gillespie,  Carmen McCrae,  Pacquito de Rivera,  Faye Dunaway  and Doc Severinson."
in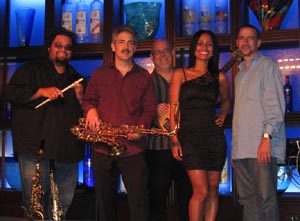 Every Tuesday at Blue Martini Kendall:  Steve Kirkland and the Mister K Band Live  7 – 11 pm
The Mister K Band features Jazz Saxophonist Steve Kirkland along with many of Miami's top musicians including Nomar Negroni, Drums;  Hal Roland, Keyboard;  Robert Gonzalez, Keyboard;  Chegui Calderon, Bass;  and Cayo Iturralde, Bass.  The amazing and beautiful vocalist Rhea Olivia is a regular member of the Mister K Band.  On Tuesday Jazz Night the Mister K Band also features guest artists and performers and vocalists like Nicole Henry, Yrasema, Cary Alexander, & Hal Roland.  Where else in Miami, Ft. Lauderdale, Hollywood, Naples or anywhere in South Florida can you go to hear live music by a live band that performs Jazz, Latin Jazz, Funk, R & B? Come hear Jazz Saxophone and amazing singers at Blue Note at the Blue Martini on Tuesday's in Kendall 7 – 11 pm.
in