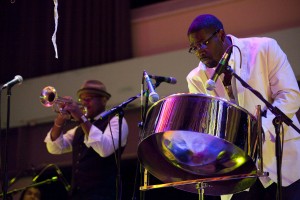 DO NOT MISS THIS NIGHT!!  Tuesday, Dec 9! Leon Foster Thomas, World Class Musician, Jazz Steel Pan player will be on stage at Blue Martini Kendall with Hal Roland, piano; Jeff Carswell, Bass; Abner Torres, drums; Steve Kirkland, Sax.  This is going to be one of the most outrageous nights of music we have ever had.  Leon plays all over the world and is one of the most exciting jazz soloists you will ever hear.
in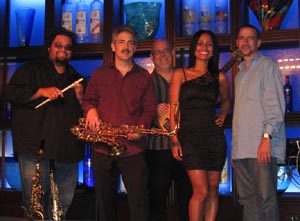 Every Tuesday at Blue Martini Kendall:  Steve Kirkland and the Mister K Band Live  7 – 11 pm
The Mister K Band features Jazz Saxophonist Steve Kirkland along with many of Miami's top musicians including Nomar Negroni, Drums;  Hal Roland, Keyboard;  Robert Gonzalez, Keyboard;  Chegui Calderon, Bass;  and Cayo Iturralde, Bass.  The amazing and beautiful vocalist Rhea Olivia is a regular member of the Mister K Band.  On Tuesday Jazz Night the Mister K Band also features guest artists and performers and vocalists like Nicole Henry, Yrasema, Cary Alexander, & Hal Roland.  Where else in Miami, Ft. Lauderdale, Hollywood, Naples or anywhere in South Florida can you go to hear live music by a live band that performs Jazz, Latin Jazz, Funk, R & B? Come hear Jazz Saxophone and amazing singers at Blue Note at the Blue Martini on Tuesday's in Kendall 7 – 11 pm.
in