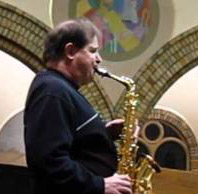 Master saxophonist Jeff Zavac with Mister K!
in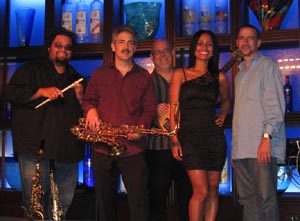 Every Tuesday at Blue Martini Kendall:  Steve Kirkland and the Mister K Band Live  7 – 11 pm
The Mister K Band features Jazz Saxophonist Steve Kirkland along with many of Miami's top musicians including Nomar Negroni, Drums;  Hal Roland, Keyboard;  Robert Gonzalez, Keyboard;  Chegui Calderon, Bass;  and Cayo Iturralde, Bass.  The amazing and beautiful vocalist Rhea Olivia is a regular member of the Mister K Band.  On Tuesday Jazz Night the Mister K Band also features guest artists and performers and vocalists like Nicole Henry, Yrasema, Cary Alexander, & Hal Roland.  Where else in Miami, Ft. Lauderdale, Hollywood, Naples or anywhere in South Florida can you go to hear live music by a live band that performs Jazz, Latin Jazz, Funk, R & B? Come hear Jazz Saxophone and amazing singers at Blue Note at the Blue Martini on Tuesday's in Kendall 7 – 11 pm.
in